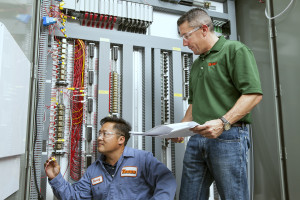 The TESCO Project Manager is a client's one-stop contact from project conception to successful completion.
Tesco Controls, Inc. employs a knowledgeable staff of project managers, many of whom are accredited Project Management Professionals* (PMP)®, experienced with coordinating complex systems integration projects specifically for water/wastewater utilities. Employing PMP-accredited project managers ensures the disciplines of planning, organizing and managing resources while addressing the successful completion of project-specific goals and objectives.
Project managers coordinate TESCO's scope of work, as well as become involved with the overall project collaboration: coordinating with the owner, consultant, general contractor, subcontractors, internal team members, and other vendor/system suppliers to ensure the requirements for project integration are met.
Project Management Responsibilities
Provide project schedule (timelines) with project milestones
Manage contractual obligations
Oversee entire project to ensure related deadlines are met
Perform site visits throughout the project
Attend required project meetings
Download Project Management Brochure
* "PMP" and the PMP logo are certification marks of the Project Management Institute, Inc. which are registered in the United States and other nations. Project Management Institute's PMP® credential, which is ISO 9001: 2000 compliant, connotes the holder as one who has demonstrated the knowledge, experience and leadership skills required to competently practice project management. It is the profession's most globally recognized and respected credential in the field of Project Management. PMP education and certification provide project managers with a solid foundation for delivering projects on-time and under budget.