Low-Profile Switchgear and Service Pedestals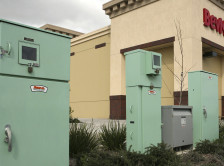 TESCOFLEX® low-profile switchgear, and underground service distribution and control pedestals are used for a wide variety of municipal applications. Developed by Tesco Controls, Inc. in 1972, they have become the standard for state, county, municipal, highway and public works departments. TESCOFLEX® Pedestals provide power distribution and metering for 0-600 volts; single phase, or three phase applications.
Download Low-Profile Switchgear/Service Pedestals Catalogue
Quality – Aesthetics – Flexibility
Constructed using the highest grade materials, TESCOFLEX® Pedestals are built for durability. Our standard pedestals are fabricated from American-made, hot-dipped galvanized sheet steel, stainless steel and aluminum. Our pedestals are built using all-welded construction, with no exposed fasteners, and vandal-resistant doors. TESCOFLEX® Pedestals are built to UL and EUSERC standards. Our coatings will withstand the most stringent testing applied to outdoor enclosures, and meet or exceed state specifications. Because of their low-profile and slimline sizes, they are perfectly suited for applications that require a more architectural aesthetic. Tesco Controls, Inc. has a substantial color chart to choose from, and the ability to match any architectural standard with custom manufactured colors. Innovative engineering flexibility and a wide range of sizes and options provides for the maximum utilization of space and nearly limitless applications.