Motor Control Centers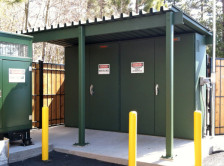 Tesco Controls, Inc. can engineer and deliver any motor control system to meet your project needs. TESCO is an original equipment manufacturer (OEM) of low-voltage (600V and below) motor control centers (MCCs) that include both indoor and outdoor applications. In addition, we have UL file extensions for various major MCC manufacturers and can customize their standard product offerings to meet your unique project specifications.
Integrated motor controls can include solid state controllers, electro-mechanical starters, variable frequency drives, reduced voltage solid start starters, panelboards, PLC control sections, communication packages, and more.
Standard Features:
Custom control wiring and compartment options
Sturdy all-welded 12-gauge steel frame construction with 14-gauge interior panels
90″ high motor control with fixed or interchangeable buckets
UL file extensions for custom control wiring, for vendor-manufactured MCCs
Custom dimensions and bucket options
Integration of any preferred PLC, OIT, and/or HMI
Constructed to UL standards
Provisions for emergency power – manual or automatic
Durable and long-lasting polyester powder coat finishes
Optional Features:
Low-profile 46", 60" and 72" high, compartmentalized motor control
Fabricated from hot-dipped galvanized steel,  stainless steel or aluminum
Sunshields, cooling systems & heating elements
Multiple color options including graffiti-resistant finishes
Utility metering combinations up to 1000 Amps available
Generator connection options
Walk-in weather enclosures or weather-wraps
Applications:
Water and wastewater treatment plants
Storm water lift stations
Wastewater lift stations
Water pumping stations
Power company utility metering
Tunnel lighting controls
Mining power distribution
Specialty power distribution projects