Manufacturing Capabilities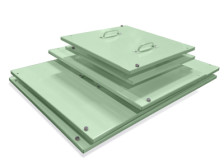 Unique among system integrators
Our expertise in manufacturing lends itself perfectly to designing and engineering all aspects of electrical distribution and control system requirements, as well as, providing required equipment for turn-key, full-service, integrated solutions.
Tesco Controls, Inc. has a U.S.-based fully-equipped manufacturing facility capable of fabricating, assembling, wiring and testing all electrical and control systems equipment for project implementation. TESCO is also an original equipment manufacturer (OEM) for most major equipment suppliers, which allows TESCO to integrate and support the full complement of hardware and software deployed in your control system.
Custom Fabrication
Every project is unique. Tesco Controls, Inc. provides value-added solutions and custom fabrication capabilities. If you can imagine it, we can manufacture it. TESCO's engineering staff can assist in developing the right equipment and enclosures for your unique applications.
Sizes
Material types
Layouts
Cabinet colors
Wiring colors
Finishes
Quality Control and Standards
All phases of the manufacturing life cycle adhere to strict manufacturing guidelines and quality control procedures to ensure the highest quality products. Tesco Controls, Inc. has also been designated a CSIA-certified level one system integrator by Control System Integrators Association (www.controlsys.org). We are an authorized Underwriters Laboratory (UL) manufacturer of electrical power and industrial control systems. TESCO systems are manufactured in accordance with UL, IEEE, NEMA, IEC, and NEC standards.
UL 508A, UL 891, UL 913, UL extensions of major OEM switchgear
All-welded construction
Raw Materials
We pride ourselves on procuring steel and aluminum that is produced in the U.S.A. (meets ARRA requirements). All outdoor enclosures are built using your choice of: hot dipped galvanized steel, aluminum, or stainless steel.
Powder-coating Process
Tesco Controls, Inc. has a state-of-the-art powder-coating paint line at its manufacturing plant. We can easily meet custom requirements and color standards to aesthetically blend into any environment. TESCO can quickly color-match and manufacture custom colors to fit any architectural requirement. We have an expansive variety of finishes, including Federal, RAL and anti-graffiti coatings.
Seismic Standards
TESCO cabinets are constructed for appropriate seismic zones. We can provide seismic calculations and independent studies.
Emergency Responsiveness
Service to disaster-hit areas
Quick delivery of repaired or replacement equipment

72-hour repair or replacement of product if standard service pedestal is hit or damaged

Rebuild damaged systems with expedited service

Expedited service for critical applications
Products Manufactured In-house
Custom enclosures (Hot-dipped galvanized steel, 316SS, 304SS, aluminum, anodized aluminum)
Utility service equipment: 200/400/600/800/1000 amp
Electronic assemblies: programmable controllers, instrumentation, communications
Custom motor control centers (MCCs)
Custom and standard power distribution systems
Custom and standard pump station power distribution and control enclosures
Electrical, hydraulic and pneumatic instrumentation control panels
Specialty panels for unique applications: weatherproof shelters, mining and food/beverage, energy co-generation projects, energy solutions, bridge controls, and tunnel lighting.
Download Manufacturing Brochure
Download Paint Process Brochure