Programmable Logic Controllers (PLCs)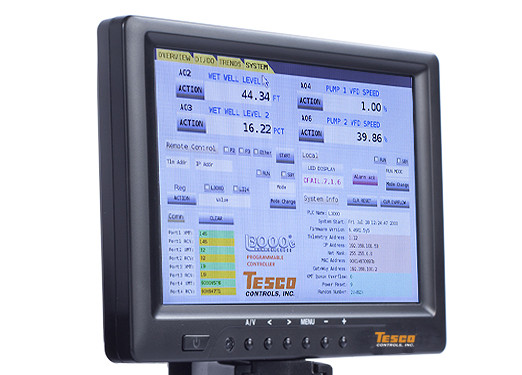 For over 35 years Tesco Controls, Inc. has been involved in the development, programming, and configuration of PLC/RTU-based control systems for water and wastewater collection, distribution, treatment, remediation, and various industrial applications. Our PLC products are designed and manufactured to withstand extreme environments and corrosive elements found in these environments.
Download L3000e Series PLC Brochure
Built for scalability – Expands to meet your needs
For efficient and effective control systems, TESCO PLCs provide automation, remote access monitoring, and control of vital systems. Our fully-automated systems also include information management and the delivery of data, reports, and trends. TESCO PLCs are developed to meet the needs of many types of operations, from small facilities to large multi-station treatment plants. The I/O configurations are customizable to meet facility requirements now and in the future.
Enhanced PLC Technology
Unique built-in features and leading advancements are designed to provide reliability, ease-of-use, and cost effectiveness. Multiple protocol compatibility and communication ports offer the flexibility to communicate with a wide range of equipment such as PLCs, OITs, instrumentation, power monitors, etc., via an array of media platforms.
Continuous Availability – QNX Reliability
TESCO PLCs are built on the QNX® Neutrino® real-time operating system (RTOS). This system complies with the POSIX (Portable Operating System for Unix) standard and is the preferred choice for critical systems such as aerospace, air traffic control systems, surgical equipment, and nuclear power plants.
TESCO OEM Capabilities
Tesco Controls, Inc. is also an Original Equipment Manufacturer (OEM) for many major brands, allowing clients total flexibility when designing new systems or expanding existing facilities.
Programmable Controllers (PLCs, RTUs)
PLC Hardware
Rockwell Automation – ControlLogix, CompactLogix, SLC 5/XX, MicroLogix , PLC 5/XX
Schneider Electric – Quantum, M580, M340, Momentum, SCADAPack, Micro, Compact
Misc. – Siemens SIMATIC, Emerson ControlWave & Bristol Babcock, Kingfisher, Motorola ACE & MOSCAD, GE FANUC, Automation Direct  Do-more & DirectLOGIC, Opto 22
TESCO – L3000, L2000, LIQ III
Operator Interface Terminals
OIT Hardware (Software)
Rockwell Automation – PanelViewPlus (FactoryTalk View ME), PanelView (PanelBuilder32)
Schneider Electric – Magelius (Vijeo Designer)
Misc. – Automation Direct (C-More), Red Lion (Crimson), Maple Systems (EZWare), GE Quick Panel (Proficy/Cimplicity)
TESCO – L3000 HDMI Touchscreen OIT, OIT Full-sized LED, OIT Compact LED
For more information about OEM partners, consult our sales department at mailto:sales @ tescocontrols.com or (916) 395-8800.