Variable Frequency Drives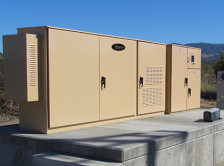 Tesco Controls, Inc. has a long history of integrating variable frequency drives into water/wastewater systems. As an OEM, we can provide clients with VFDs from many major manufacturers. For more information, please email our sales department at sales @ tescocontrols.com or call 916.395.8800.
Over the past 40 years, we have seen a need for VFDs which will perform in extreme environments, without buildings or refrigerated air conditioning. TESCO has developed a revolutionary outdoor VFD product to meet this need.
Reliable, clean power, VFD solution for high heat environments
The TESCO Endurance Drive is a clean power variable frequency drive (VFD) that is specifically engineered to perform reliably in severe environments and high outdoor temperatures. The Endurance Drive chassis has been proven for applications in desert environments, deep mining locations, and oil and gas fields for over 15 years.
TESCO's outdoor variable-speed Endurance Drive is reliable, cost-effective, uses standardized components for quick delivery times, and is low-profile to fit into most any environment. It is manufactured to  3R or 3RX and UL standards. A revolutionary product, the Endurance Drive requires no refrigerated A/C or outdoor buildings and the VFD drive has been sealed to protect the electronics from dust.
Download Endurance Drive VFD Brochure
Download Endurance Drive Vertical VFD Cutsheet
Applications
Sewage lift stations
Booster pump stations
Well sites
Other variable-speed applications